Check out the Best Creeper Plants that you can grow to have privacy in the garden. They are also a great option to cover a bland wall!

Creeper plants, just like their name, are the kind of plants that grow in the direction of the ground. They are best for walls, but you can also grow them in containers. Here is a list of the Fastest Growing Creeper plants in India that you can easily grow in your homes!
Check Out the Best Creeping Plants in India

here!
---
 What are Creeper Plants?
Creeper plants grow in a fashion that looks like the plant is creeping on the base. These plants, unlike others, have a horizontal growth pattern, as they have a weak stem that can not hold the weight of the plant and stand uptight.
Check Out 28 Summer Flowering Plants in India

here!
---
Difference Between Creepers and Climbers
Often confused as a climber, the creeper is a lot different from it in its growth patterns. A climber is a vine that grows in a vertical direction and can hold its weight.
Unlike climbers, creepers have a growth parallel to the ground's surface. Plus, these plants require support to climb up.
Check Out the Best Indoor Vines And Climbers You Can Grow

here!
---
Fastest Growing Creeper Plants in India
1. Morning Glory
The exotic blue and trumpet-like flowers of this plant are why they are a favorite of all! It is a low-maintenance plant that does not require a lot of attention. You can train the creeper on walls and doors by providing proper support. It is one of the Best Creeper Plants in India.
2. Bougainvillea
Bougainvillea is famous as a decorative. You can easily find these flowers in any Indian household, as they are easy to grow and undoubtedly one of the Fastest Growing Creeper Plants in India. These flowers are really easy to maintain and are quite hardy.
Check Out Bougainvillea Care in Pots

here!
3. English Ivy                                                                                                                                            
This plant is evergreen in nature and a favorite of gardeners in India thanks to its thick, glossy leaves. It is a fast-growing plant that can spread its cover fast if provided with proper conditions, which makes it one of the Best Creeper Plants in India.
4. Star Jasmine                                                                                                                                             
Famous for its refreshing fragrance and beautiful star-like flowers, this plant is great to grow in your garden. It can not only enhance the beauty of your garden, but you can also use it as an indoor decorative plant to add a calming fervor to your bedrooms.
Check Out Everything About Growing Night Flowering Jasmine

here!
5. Madhumalti
Also famous as Rangoon Creeper, this plant has beautiful color-changing blooms that can add to the aesthetic appeal of any garden. These flowers grow in bunches, and the creeper can be trained to climb on any trellis or fence you like. It is one of the Best Creeper Plants in India.
Check Out How to Grow Madhumalti from Cutting

here!
6. Bengal Clock Vine
Another plant with beautiful blue and fragrant flowers, Bengal Clock Vine, is native to India. As it only climbs or twines in clockwise directions hence the name. It can be a good choice for growing in gardens, as the evergreen blossoms look amazing when they grow in clusters.
7. Lavender
The aromatic herb is best for growing as a garden creeper. These plants are low maintenance, easy to grow, and quite hardy, making them a favorite of Indian households! These plants do not require special attention but growing them outdoors is a better choice, as they require full sun and well-draining soil. It is one of the Best Creeper Plants in India.
Check Out 365 Days Flowering Plants in India

here!
8. Curtain Creeper                                                                                                                                                                                                                                                                         
Also known as Parda bel in Hindi, this plant can create an amazing green curtain-like structure; anywhere they are placed, You can add this amazing kind of creeper curtain to your indoors or outdoors to give it an exotic display.
9. Allamanda
Allamanda blooms year-round and is noted for its leathery, dark green shiny foliage. It is best to cover bare walls of buildings or boundaries and can also be used for screening to maintain privacy, which makes it one of the Best Creeper Plants in India.
Check Out How to Grow Allamanda blanchetii

here!
10. Sweet Potato Vine
The sweet potato vine is from the blue morning glory family and is popular as a fast-growing, perennial plant species. It has beautiful dark-green to lime-green leaves and white flowers with purple throats cultivated in southeast India.
11. Skyblue Cluster Vine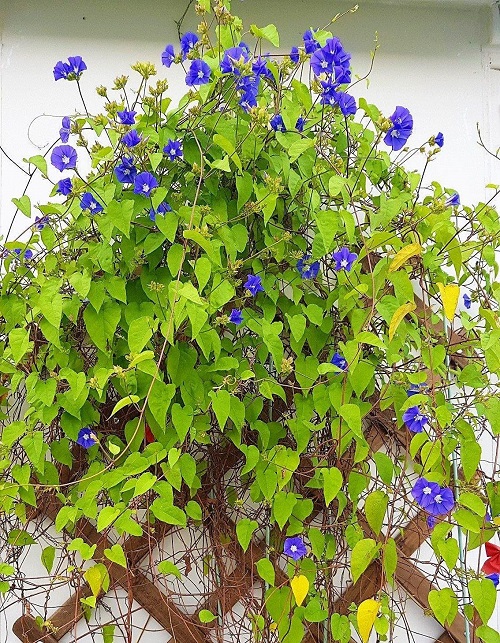 Skyblue cluster vine is a plant with small white-throated flowers which resembles a blue summer sky. The plant has small, shiny, heart-shaped leaves. It is one of the Best Creeper Plants in India.
Check Out Everything About Growing Turtle Vines in India

here!
12. Garlic Vine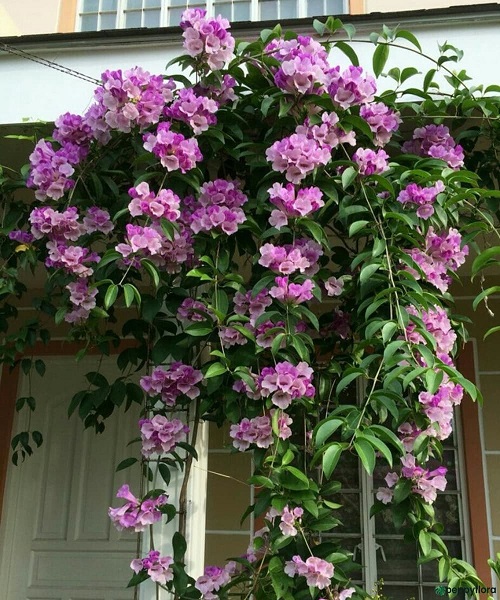 The garlic vine is one of the most beautiful flowering vines. It smells like garlic when the leaves are crushed, which is how it got its name. Its compact habitat and constant purple-white flowering make it one of the Best Creeper Plants in India.
13. Flaming Trumpet Vine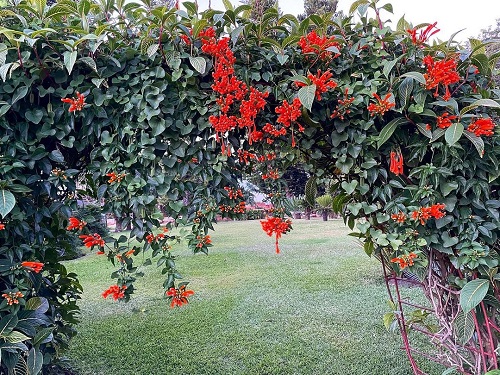 This fast-growing vine is native to Southern Brazil and Northern Argentina and is well suited to Indian soils. It has orange flowers that appear in winter and last right through spring. If one wants to have a beautiful cover on the fence, this is the best plant to grow. It is one of the Best Creeper Plants in India.
14. Hoya
Hoya is a plant with shades of pink or red and is great for shaded locations. Hoyas are evergreen perennial creepers or vines and often grow on trees and terrestrials.
Check Out the 12 Best Hanging Succulents in India

here!
15. Strawberry
Strawberry is a flowering creeper plant known for its edible fruit. What makes it a great choice is its foliage and delicious fruits that you can enjoy all at the same time!
---
Creeper Plant Care
Pruning
Make sure to prune your plants on time as they get bushy fast, and start taking nutrition from the other plants in your garden, resulting in slow growth or even death of your garden plants.
Watering
Water your creeper plants daily; else, these plants will start shedding flowers due to lack of moisture. Reduce watering during the winter season.
Read About Why is Drip Irrigation the Best Method of Watering Plants

here!
Pests and Diseases
Aphids, whiteflies, black mites, and green grasshoppers pose a danger to the growth of creeper plants. So use appropriate pesticides to get rid of them in the first place.
Support
Provide your plants with proper support whenever you grow them in the vertical direction. Train them properly, and you can support them with the help of coconut twine or aluminum wire.