Enhance the aroma of your cuisines by learning how to grow Indian Herb Garden and have a fresh supply year-round of these aromatic cooking herbs!
Herbs are the easiest edible plants you can grow in your small garden. Fresh, homegrown leaves can enhance the taste of your meal in no time. If you've got a small balcony in a busy city of Mumbai, in national capital Delhi or a rooftop in our very own Silicon Valley of India–Bengaluru, you can have your own Indian Herb Garden in a room with windowsill that receives 4-6 hours of direct sunlight.
---
1. Mint (Pudina)                                                                                                                                           
Botanical Name: Mentha
Common Names: Field Mint, Wild Mint, Corn Mint, Pudina, Podina, Chetamargugu, Chetni-marugu
Mint is a fragrant fast-growing culinary herb that is used in many Indian meals.  You can use fresh or dried leaves for garnishing, for making salads, curries, chutney, tea, and mojito. Adding fresh homegrown mint to 'dahi' to enjoy with parathas, makes the best breakfast!
How to Grow: You can grow mint from cuttings easily or buy a young mint plant from a nursery. It grows best in partial shade but tolerates complete shade as well. Feed the plant with liquid fertilizer monthly.
Selecting the Pot: Any 6-8 inches deep pot will be fine, but pot should be wide because mint spreads through runners. You can also grow mint in hanging baskets.
2. Dill                                                                                                                                                                 
Botanical Name: Anethum graveolens
Common Names: Suva, Soya, Chatakuppa, Pakhon, Satakuppa, Catakuppai, Kattucata, Kuppai, Sompa
Dill has a sharp and tangy flavor, somewhat like fennel and carrot. It is much suited for soups, dals, and sauces, and also paired in dishes with potatoes, meat, and fish. It is one of the best Indian herb garden plants you can grow!
How to Grow: You can plant dill by sowing seeds directly in the desired location or pot in well-draining loamy soil, and water the plant regularly throughout the growing season.
Selecting the Pot: For growing dill in your balcony or terrace, select a 10-12 inches deep pot.
3. Holy Basil (Tulsi)
Botanical Name: Ocimum tenuiflorum
Common Names: Tulsi, Trittavu, Tulshi
Basil is considered auspicious among Hindu, Jain, and Buddhist communities. It has several variations that include lemon basil, purple basil, Thai basil, and strawberry basil. You can use the fresh or dried leaves in teas, soups, salads, and Thai cuisines as well.
How to Grow: Basil plant grows well in the rich potting mix under full sunlight, but this herb can tolerate several hours of shade as well and prefers moderate watering!
Selecting the Pot: Holy basil is a tough plant and can be grown in a variety of pots. A large 12-14 inches pot is suitable for its growth.
Check out our article on caring for Tulsi Plant

here

! 
4. Cilantro (Dhaniya)
Botanical Name: Coriandrum sativum
Common Names: Dhaniya, Phadigom, Kotthu Malli
Cilantro or coriander is quite popular in Indian cooking for its aromatic properties and also commonly known as dhania. It gives zesty lemon-like taste and used in post preparation of dishes. You can boost the flavor of soups, salads, curries, vegetables, and meat dishes by adding aromatic leaves of cilantro.
How to Grow: Cilantro grows best in partial sunlight, 5-6 hours of direct sunlight, rich and moist soil is crucial. This herb is also convenient to grow in a pot.
Selecting the Pot: An 8-10 inches deep pot, and wide as much you want.
5. Curry Leaves Tree (Meethi Neem)                                                                                                     
Botanical Name: Murraya koenigii
Common Names: Kadi Patta, Meethi Neem, Kareapela, Karepaku, Gandhabevu, Arpatil, Mechiyaa Saag, Mitho Neem
Curry Leaves is popular in Indian cuisines with a strong and unique flavor, just like lemongrass, anise, and citrus. For best earthy aromatic taste, use fresh or dried leaves in the curries at the beginning of cooking. It is popularly used in Sambhar, Daal ka Tadka, Poha, NonVeg dishes, Kadhi, and Khaman, mostly in Southern India.
How to Grow: Propagate curry leaves tree from seeds. Well-drained soil and full sunlight is all it needs, follow the moderate watering schedule, and provide the plant warm, and humid growing condition. Beware of aphids!
Selecting the Pot: This small tree can be up to 8-10 feet tall in pots, so start it in medium 12 inches deep pot, then keep changing to one size bigger pot as soon as the plant outgrows the current container.
6. Bay Leaves
Botanical Name: Laurus nobilis
Common Names: Indian cassia, Indian cassia bark, Tamala cassia, Tejpatta, Tejpat, Talishappattiri, Tamalapattra
The aroma and taste of bay leaves resemble cinnamon, cassia, and cloves. You can use the dried bay leaves in vegetarian and non-vegetarian cuisines as a garam masala. It is one of the best Indian herb garden plants you can grow!
How to Grow: Buy a bay leaf plant from a nursery, use well-drained soil to grow the plant, and position it in full sunlight. Water the plant regularly for optimum growth and fertilize the plant 3-4 times during the year.
Selecting the Pot: Start it in medium 12 inches deep pot, then keep changing to one size bigger pot as soon as the plant outgrows the current container.
7. Parsley
Botanical Name: Petroselinum crispum
Common Names: Ajmood, Achu mooda, Seema malli
Parsley adds a mild taste in your dishes with an aftertaste of anise or licorice. It is extensively used as garnishing and flavoring agent in soups, curries, and salads. Also, you can use parsley leaves in stuffings, marinades, and omelets.
How to Grow: You can grow parsley from seeds or buy a healthy plant from a nearby nursery. Grow parsley in rich, well-draining soil in full to partial sunlight.
Selecting the Pot: A minimum of 8 inches pot is ideal for the growth of this herb.
8. Fennel
Botanical Name: Foeniculum vulgare
Common Names: Saunf, Florence fennel, Finocchio, Moti saunf, Sompu, Preumjirakam, Misreya, Madhurika
It is a perennial herb with feathery leaves and yellow flowers. You can add sliced fennel bulbs in stews and soups also. The fragrant seeds are popularly used as a mouth freshener in India. It is also used in Pickles, Poha, Biryani, and Tea.
How to Grow: Grow fennel from seeds in rich, moist soil and provide the plant with 6 hours of daily sunlight.
Selecting the Pot: Use a big pot to grow fennel as it produces long taproots.
10. Lemongrass
Botanical Name: Cymbopogon
Common Names: Oil grass, West Indian lemongrass, Gandhatrina, Haona, Olecha, Karppurappul, Vasana Pullu, Bhustrina
Lemongrass has a tangy lemon-like aroma that is perfectly suited for soups, stews, curries, and tea. Add leaves while boiling, in dishes like soups, stews, and curries, and then remove them. Also, lemongrass tea is quite famous and one of the best Indian herb garden plants you can grow!
How to Grow: Keep the plant in full sunlight and water it frequently. Provide warm and humid conditions for optimum growth.
Selecting the Pot: 10-12 inches pot is ideal for the plant.
11. Carom Plant                                                                                                                                             
Botanical Name: Trachyspermum ammi
Common Names: Ajwain, Jowan, Yavano, Ajamoola, Oma, Omu, Ajamoda, Ova, Ajamoda
It has a stronger flavor than greek oregano and suits well in fritters and local dishes like pakoras, chutneys, and parathas. You can use this herb to make a concoction to cure cough and cold as these leaves have several medicinal properties.
How to Grow: Grow ajwain plant in the partial sun by using well-draining, nutrient-rich soil. Avoid overwatering as it can kill the plant.
Selecting the Pot: It can be grown in small containers.
12. Indian Sorrel/ Chaangeri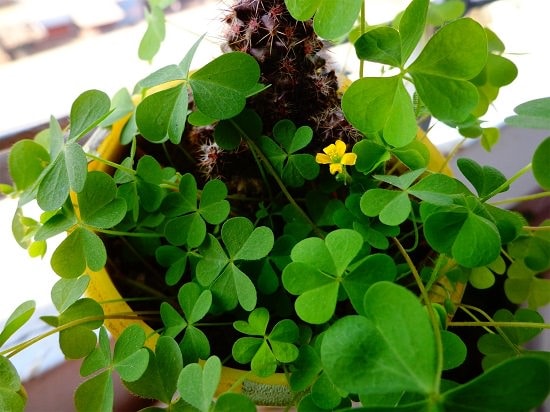 Botanical Name: Oxalis corniculata
Common Names: Creeping Oxalis, Piyag Miu, Amrul, Yensil, Paliakiri Amrulshak, Poliyarala, Charee Amilo
Indian sorrel has sweet-sour taste, the fruits, leaves, and flowers are edible and used in the preparation of chutney along with mint, coriander, and raw mango. This herb is considered as a weed, and plant growers often pull it. You can use the leaves in making salads, soups, and pickles.
How to Grow: You can grow chaangeri in full to partial shade in well-drained, less fertile soil with pH (5.5-6.8). Don't worry about its care, since it's a wild plant. It thrives in neglect.
Selecting the Pot: Minimum 6 inches deep pot is fine.
14. Fenugreek
Botanical Name: Trigonella foenum-graecum
Common Names: Greek-clover, Greek hay Methi Mente, Mentepalle, Mentesoffu  Uluva Bahuparni, Chandrika, Dipani, Gandhaphala
Fenugreek has a sweet and nutty taste that is widely used in several Indian dishes. 'Methi ki bhaji' is most famous in many Indian states. It considered a leafy vegetable, but dried leaves are used as a herb and commonly known as 'kasoori methi.' It is one of the best Indian herb garden plants you can grow!
How to Grow: Fenugreek prefers 4-5 hours of direct sunlight and mildly acidic to alkaline soil with pH (6.5-8.2). Keep the soil moist by watering the plant regularly.
Selecting the Pot: For growing methi in containers, choose wide planters. A 6 inches deep pot and as wide as possible is perfect.